This page is dedicated to publications related to or released by students and academic staff of the EPOG Master's Programme.
---
Abecassis P. and Coutinet N. (2018). Economie du médicament. Repères / Economie n°716,128 p.
Summary in French here.
Under the expectations and responsibilities of public policies as much as the health and finance sectors, the drug industry arouses more interest than most other industries. This concise book sweeps through its various aspects to provide a useful insight into the issues brought by this particular economy.

The global economic weight of the drug industry – more than $ 1 trillion of turnover – stirs financial interests. But the stakes of the production of the drug far exceed the usual industrial problems. Innovation brings hope in terms of improving well-being or preventing death; sufficient production and accessibility to treatment are major public health issues; the safety and efficiency of products at affordable prices are the responsibility of the public authorities. However, do we really know the economic mechanisms by which pharmaceutical companies and public authorities respond to these issues?
This book offers to analyse the conditions of production and distribution, the methods of setting prices, the requirements of quality, accessibility and effectiveness of the drug. It is thus focused on the strategies of all the actors whose interests, sometimes divergent, are channeled by a compromise (or model of production) in permanent evolution and a complex and constraining regulations.
Philippe Abecassis and Nathalie Coutinet are health economists, lecturers at the University Paris 13 and members of the CEPN (UMR-CNRS 7234).
Nathalie Courtinet's work focuses on the strategies of firms, in the field of industrial economics, and the transformations of health insurance.
Philippe Abecassis is particularly interested in the economic analysis of health policies as well as the strategies of health actors (doctors, health insurers and firms).
---
Guttmann R. (2018). Eco-Capitalism. Carbon Money, Climate Finance and Sustainable Development. Palgrave Macmillan, 321p.
Summary and where to buy it here.
– Frames the problem of climate change in a new light and identifies the necessary elements of an effective climate mitigation strategy
– Addresses the challenge of how best to wed a profit-driven capitalist system to societally beneficial goals of sustainability
– Presents the constitutive elements of an ecologically oriented type of capitalism centered on the Sustainable Development Goals of the United Nation's 2030 Agenda
– Encourages the construction of an ecologically oriented type of capitalism, and introduces a new type of money—carbon money—to incentivize the transition to a low-carbon economy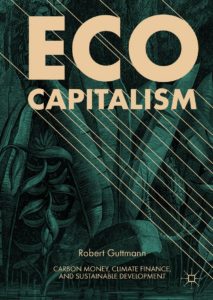 Our planet faces a systemic threat from climate change, which the world community of nations is ill-prepared to address, and this book argues that a new form of ecologically conscious capitalism is needed in order to tackle this serious and rising threat. While the Paris Climate Agreement of 2015 has finally implemented a global climate policy regime, its modest means belie its ambitious goals. Our institutional financial organizations are not equipped to deal with the problems that any credible commitment to a low-carbon economy will have to confront. We will have to go beyond cap-and-trade schemes and limited carbon taxes to cut greenhouse gas emissions substantially in due time. This book offers a way forward toward that goal, with a conceptual framework that brings environmental preservation back into our macro-economic growth and forecasting models. This framework obliges firms to consider other goals beyond shareholder value maximization, outlining the principal tenets of a climate-friendly finance and introducing a new type of money linked to climate mitigation and adaptation efforts.